Hello.....how was everybodies Christmas. Mine was quiet and over very quickly. So off we go on another year.....always a time of reflection and if ones lucky choosing a holiday. Me and Dh are trying to make our minds up on this at the moment. We have a week booked to go to the Scottish Highlands and I am really looking forward to that, we are going to go on the 43 mile trip from Fort William to Mallaig on the train (which apparently one of the 10 best train journeys in the world) and we go over the viaduct and area that they used to film Harry Potter. Also going to go up Ben Nevis and have a spot of lunch at the cafe place. A trip to Isle of Skye....and hopefully a lovely woollen shop there called Shilasdair. We have lots planned to see and do and hopefully try out a few walks aroundabouts.
Regarding this years holiday, we are quite taken with a cruise but to go up to the Norwegian Fjords and further to the North Cape to experience the Midnight Sun....the only problem here being that the route is across the North Sea erm!!!! can be a tad choppy at times...so we are still thinking. We would love to go across Canada on the Rocky Mountaineer but more in winter time....but thats if you could get access with the weather at the moment. Maybe we need a few more pennies for this one.
But anyway on the knitting front, well my Autumn cardigan that I made, sits in a draw, crying, lonely unloved, unworn. Why? I hear you ask. Because the darn bleeping things too itchy, I have tried and tried its been washed twice, the 2nd time with hair conditioner and still it itches. You know that feeling, you put it on and then your skin starts to crawl and you feel you just want to quickly get it off.....its a shame as it really was a lot of work. Think maybe I should just put it on a hanger and leave it somewhere, so I can admire it...saying that I haven't put any buttons on yet.
Anyway must admit have been rather lax on the knitting front, plenty of things in mind to do...but have made a pair of wrist warmers,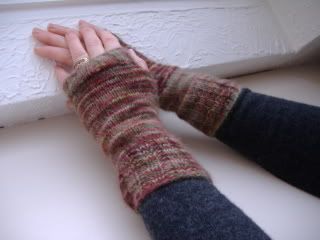 which stop be fingers getting chilling when using the computer mouse and just finished this pair of socks. Sorry not a great photo in shadow (mine)...but anyway the yarn was prettier in the hank than when wound and knit. But quite pleased the way the same colourway has shown on the heel.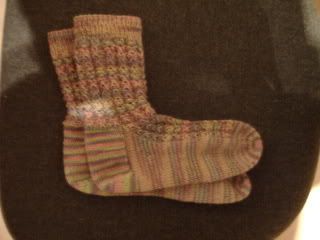 So thats all to show for now, hopefully really get into something more soon...take care. x